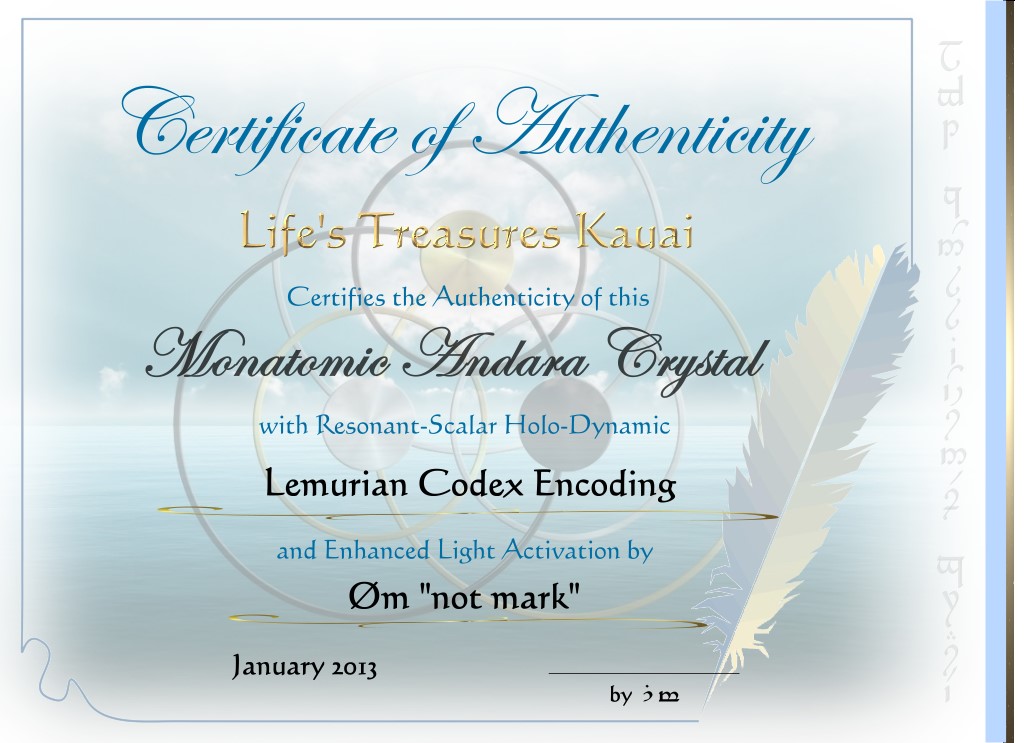 Aloha Everyone,
As you can see from the above image, I have a new Certificate of Authenticity.  For those of who have recently ordered, the above certificate has been enclosed with your Andara crystal.
I had wanted to convey with this certificate not just the Andara crystals authenticity, but also all of the special Lemurian Codex encoding and Enhanced Light Activation by Øm "not mark" while they are in my care.
I have been told by many of how powerful the energies are from Andara crystals purchased from Life's Treasures Kauai. I have also been asked if I activate them in some way.
As I have said for many years, Andara crystals do not need o be activated,  (see this post "How to Activate Your Nascent Andara crystal")
The difference is the layering of 2 resonant fields within the liminal light sphere of each Andara crystal. Liminal in this case means "threshold" and as such, as one enters this field or threshold, both encoded resonant fields are initiated within the individual.
As the imagery of the certificate reflects, there is a lot of metaphysical depth to the Lemurian Codex Encoding and Enhanced Light Activation. And all of it is done by source.
You can read more on the "Lemurian Codex" by clicking here:   The Lemurian Codex
It has been an exercise in joy writing this, and if you have any questions just drop me a line.
Blessings & Light
Øm "not mark"