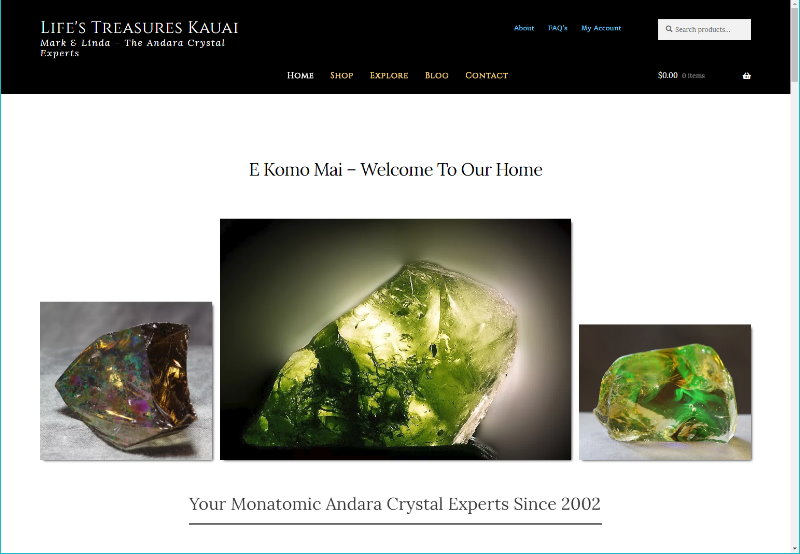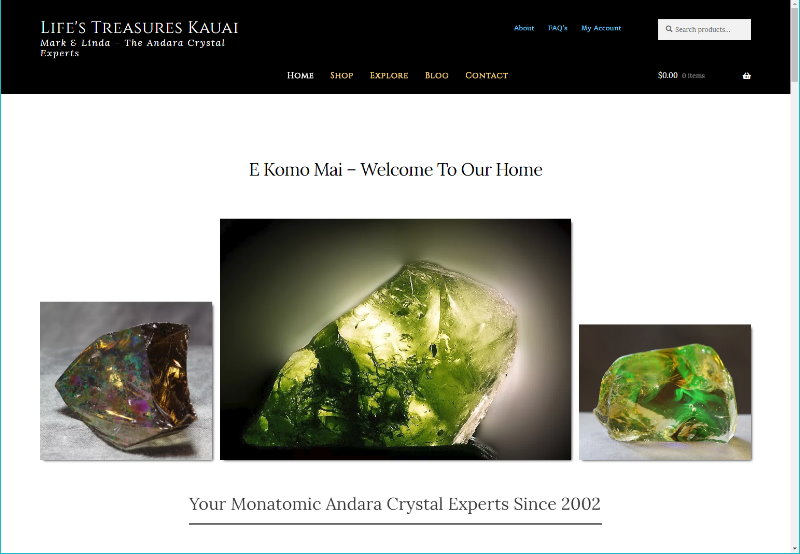 Linda and I are proud to announce the grand re-opening of our website and online store LifesTreasuresKauai.com. After a two year hiatus, several moves and life-changing events, we are now settled in our new home.
LifesTreasuresKauai.com is once again open for business and stocked with our stunning collection of Monatomic Andara crystals. Many of the rare and unique specimens come from Mark's private collection found nowhere else.
We have also redesigned Lifes Treasure Kauai to reflect our Aloha spirit and island roots of family and spirituality. Just like the original store we opened on Kauai in 2002, we are committed to service that goes beyond the ordinary.
For those who don't know, Linda is my wife and partner of more than 35 years. Linda has been running our eBay store, Kauai Andara Crystals, for more than six years now. With the re-opening of our Life's Treasures Kauai website, Linda will be spending more of her time here.
Of all the updates made, the most exciting is that Linda will now be writing for the Life's Treasures Kauai website. With years of stories and events that friends and customers have shared with her, Linda will be bringing her unique view and personality to our website and online store.
I will also be busy updating the Andara crystal codex with the latest science and metaphysical discoveries. Coming soon will be an updated Andara Crystal guide featuring the rare, gem grade and newest colors now available.
With that said, we invite all of you to join us in this Grand Re-opening. Linda and I have a lot of great ideas in the works, bringing over 16 years of personal experience working with our Andara crystals and an ever-expanding network of friends and customers.
In Hawaiian, we say "e' Komo Mai," which is the traditional invitation to come inside and enjoy our hospitality. It also means that you are considered family and our doors are always open to you.
Here at LifesTreasuresKauai.com, we are always open for one and all to join our family, our "ohana" and share in the spiritual bounty that is the essence of our store and the Andara crystals we carry.
Blessings & Light
Mark & Linda